About The Salina Supply Company
About The Salina Supply CompanyAbout The Salina Supply Company
Hours of Operation
Monday – Friday: Warehouse: 7:30 am – 5:00 pm / Office: 8:00 am – 5:00 pm
Showroom
Dealers are encouraged to send their customers to our Showroom. Our showroom is a 1,300 square foot area with displays to help assist customers with their fixture and faucet needs. There are seven actual bathroom displays that are decorated in different styles. We have a wide variety of faucets on display in several different styles and finishes. – learn more
Plumbing, Heating & Air Conditioning Catalog Service
Our catalog was developed to be a sales and pricing aid to the P-H-C contractor and retailer. It gives list prices of items normally in stock. Inventory and price pages are computer generated in our office for quicker response to market changes. –See Our Catalog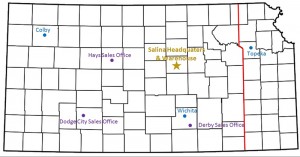 Area Covered
Kansas – from Topeka west.
Warehouse and Inventory
We carry approximately 10,000 items of major brands of quality fixtures, valves, pipe and fittings. Our big 100,000 Sq. Ft. warehouse allows most items to be kept under roof.
Parts Department
We try to carry backup parts for all normally stocked items.
Quotation Service
We are happy to quote the major material on industrial, commercial and residential P-H-C jobs. our Waterworks department handles quoting of pipe, valves, fittings and specialties on all water and sewer jobs.
Transportation
Common carrier trucks leaving daily from Salina are Price Truckline, Vitran, Beaver, Conway, and U.P.S.
The above carriers start picking up about 2 p.m.
Parcel Post shipments are delivered daily to the Post Office.
---